Increasing your website traffic for your small business website is always good business. Package promises, "guaranteed" search results and more might have let you done. Here is how to turn that around ASAP.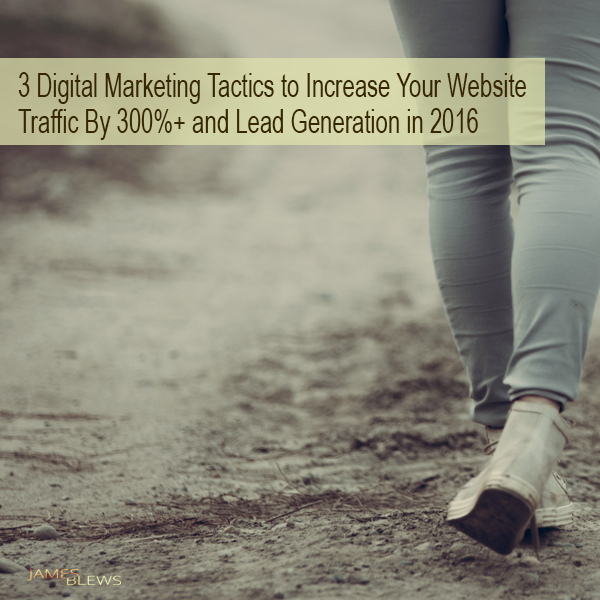 By the end of this read, you will have actionable plans to increase your website's traffic by 300% (or more) very fast. Plus, you will have a really fast method of generating leads that will literally be calling you over it. No, these aren't hacks nor tricks in digital marketing.
Instead, these are easy, often-overlooked and simple methods of gaining more traffic and leads for your business.
But, let's not stop there. Remember, targeted traffic, pre-qualified leads as well, are the goal.
So, let's look to do this:
gain targeted traffic, pre-qualified, to purchase from you
keep your costs down by using ROI-friendly programs and platforms for traffic
scale those methods with pay-for solutions, ONLY if there is a scalable method
Sounds like things you can comfortably take part in without worry, right?
Remember though, if you aren't knowledgeable in some of these, you may cause yourself unnecessary grief and even harm to your brand. With that said, I've tried to display them and explain them in enough detail (without boring you), to make them actionable without the need to hire a professional.
Ready to get started?
1 – Start with Webmaster Tools
Google and Bing have Webmaster Tools. To use them, you install a small file on your website (as well as confirm your ownership in other ways). Oh yes, one more thing…these are both FREE!
Above all else, the largest reason to install and use webmaster tools from the major search engines is your validity and access. You can have direct notifications of possible negative actions taken by the search engines on your site, and technical issues.
With Google Webmaster Tools (we'll be focusing on this), we can see things like our search placements, traffic from clicks, links into our sites and more.
But first, let's get our code!
First, go to Google Webmaster Tools website.
In the upper right-hand area, you will see a red button labeled "Add A Property".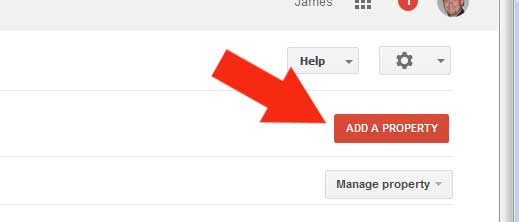 After clicking the button, a small popup will, well, popup. You will enter your domain name inside of this box. Then, click 'Continue'.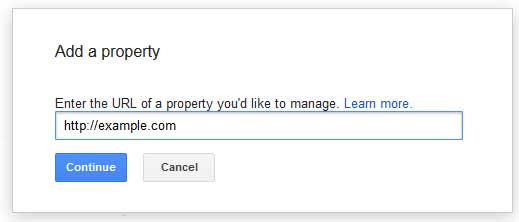 On this next screen, you will see a detailed, actionable list on how to verify your website as 'yours'. Download the file, use an FTP program or your control panel to upload the file and then, click the link to verify.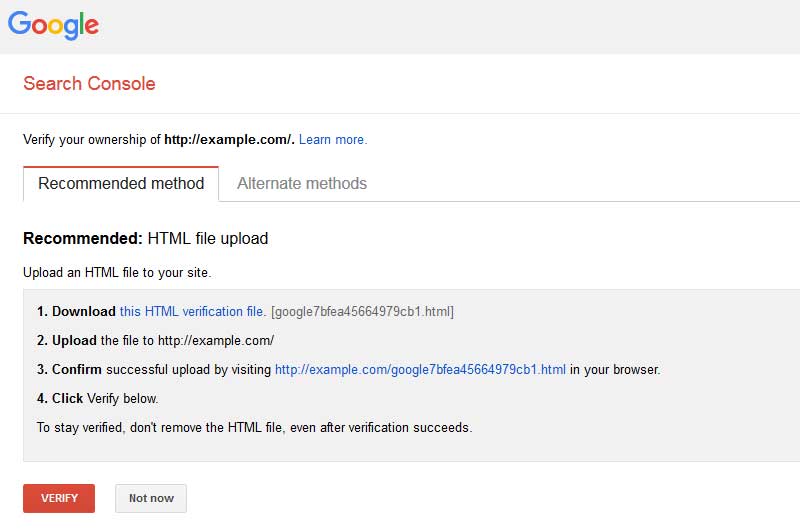 There are also other verification methods that you can use. These include inserting a piece of code (a META tag) into your HTML, as well as verifying your ownership via your registrar and DNS. You could also use Google Tags, and your Google Analytics' account.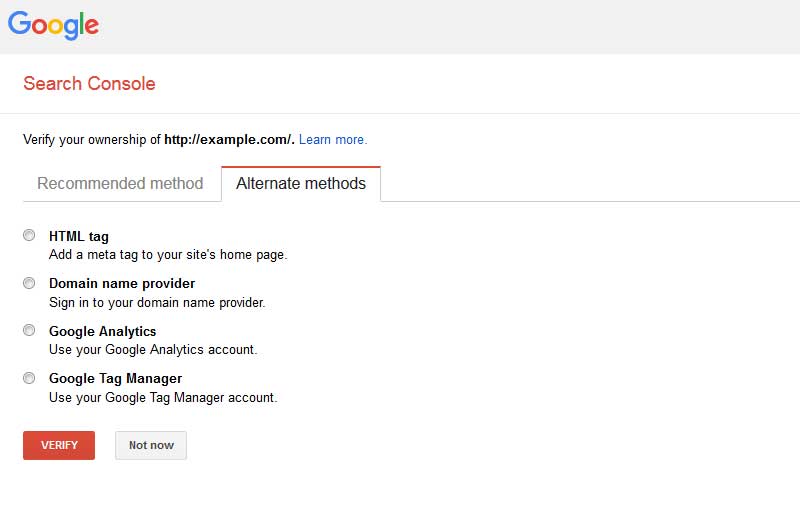 Once this is done, and you are verified, then you are ready to start using your webmaster tools account. At first, though, you might not have a lot of data, nor actions in place. However, that doesn't mean that you cannot use some of the awesome features.
Don't want a crazy wall of text of explanations? Ok! Here is an action list for your first steps into Google Webmaster Tools (and yes, Bing is nearly IDENTICAL).
Make a property entry for your website for both the WWW. version and without (https://www.jamesblews.com and https://jamesblews.com)
Go to Crawl > Sitemaps and upload yours
Go to Crawl > Fetch as Google and fetch each page of your site
Then, wait…
After a few weeks, you will start to notice Google displaying metrics for various parts of your website. You will see the main content chosen (more or less, your keywords in your content), you will see how often your website appeared in search, how often it was clicked and what queries were used. You can also view errors, 404 pages and more.
The key, here, is to use the information. You can use it to fix your site (correct the crawl errors). You can determine what content and marketing strategies are seeing results (your CTR and search visibility). And, you will even know where you are being linked from, and from whom.
Plus, you will have your articles and content nearly immediately indexed by search engines.
One big tip I can give about using Webmaster Tools is to not neglect video sitemaps in your tools. Your video creation and video marketing strategy can be expensive. Why shoot yourself in the foot by neglecting a very simple and easy method of indexation and discoverability.
2 – Building the best content for your brand
Content is, and will be, the most impact method of generating traffic. Content also has two parts: creation and content marketing. If you use both in the most effective ways for topics that really matter to your visitors, things will work.
But I'm not going to lie here…most of the time, you will be using content the wrong way.
Why is content so important? And, how are you, as a business owner, using it in the wrong ways?
Content creation means more than words…
Content = traffic.
Traffic can come from many sources. You can see organic search traffic. You can see social media clicks lead to more visitors. People can see your videos on YouTube and DailyMotion and follow you to your website. You can also see much traffic from viral images, quote cards and infographics.
These are all examples of using content, in many different forms, to do one thing – get your more traffic.
If you become better at it, you will get more from it. Sounds simple, right?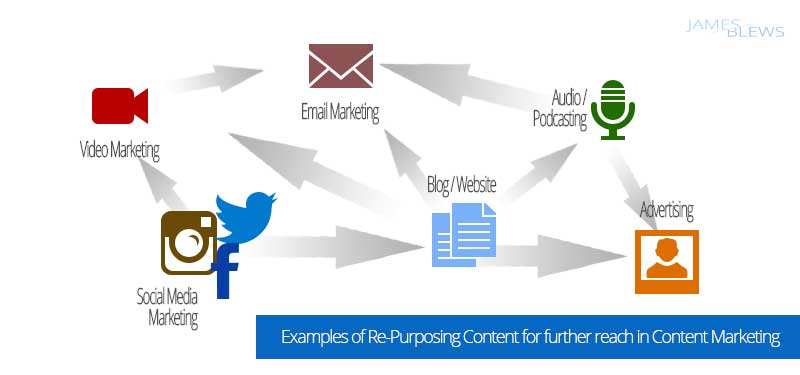 To do that, the easy way is to translate one medium into another. You should be creating images inside of your articles or webpages. You can then use those, and pieces of the written content as excerpts, for Instagram and Twitter. You can also create videos from the articles / outlines for YouTube, Daily Motion and Facebook. The presentation can be uploaded to Slideshare. You can also take the article and make a downloadable optin. You can even extend everything to podcasts, webinars and more.
Extending great content via content marketing
You must market your content to get the most out of it. If not, then you are "the answer in the ocean".
What is that? Some new marketing term?
No.
This is an analogy I use concerning the content that you create, and what it is like to never do content marketing on your information.
Basically, imagine that you are in a raft in the middle of the ocean. In your raft is you, and you alone. You have no oar, no phone, no signals…basically, you and you alone. However, what you do possess is something that can change the world – the cure for cancer. However, no matter how loud that you yell, no matter how cost-effective and cheap the cure is, no one is seeing you!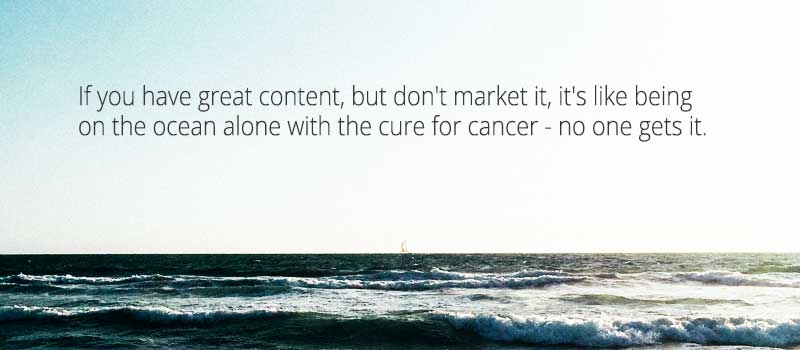 If you have great content, but don't market it, it's like being on the ocean alone with the cure for cancer – no one gets it.
With every piece of content, do these five things to "boost" its reach. Not all of these are as simple as they read, however, they work. And, over time, you will feel their impact daily.
Use social media via native content and boosted posts
Notify your public via social media (3-4 tweets, daily FB posts, etc)
Notify your email list weekly of new content
Create influencer lists and let them know (and how it can benefit their community)
Reclaim dead links that are related to your content and topics
Blog commenting and forum commenting ONLY for conversation
Use paid advertising like Google AdWords, Facebook and Bing
These are not single actions. Instead, these are all methods to be used the day a new piece of content goes live, as well as daily thereafter, weekly and even monthly.
And over time, you could build traffic just using these above actions alone.
3 – Focusing on PPC/Advertising
Paid advertising can save your brand. The increase in traffic can destroy your previous year's sales records. In fact, just overnight can feel the impact with new sales and new phone calls.
Why aren't most business owners using this method?
Cost!
The initial investment will allow for you to see the right value. Cost, then, becomes a non-issue.
Get your math hat on, as this example might lead us down some addition, multiplication and subtraction.
Let us say that your average life-time customer value is $400 per. To see an ROI of 300% from the net revenue, you can spend about $50 to acquire each user (50% of LCV, then a 300% ROI). If each phone call that you receive converts at 50% or higher, than means that by your spending at or below $25 to get a person to call you, you are making a nice amount of revenue.
When you consider that the average small business uses keywords that, when focused, are usually below $10, you can see the scalability of PPC advertising.
This math, nor the example, is a guarantee. However, in this example, you can start to plug in numbers, see conversion rates and start to formulate how much money you could be spending and making in paid advertising.
Unlike other digital marketing methods, paid advertising happens fast. These results are faster simply because you are spending more on them.
Paid advertising scales just as fast
Without spending money on paid advertising you will not see the results to allow you spend more to see even further results. And, that spend scaling can also become keyword scaling. Or, you can alter the platform. You can even alter the end-user's actions.
The primary method that I feel that all local businesses should be using is "Call Only" advertising on Google AdWords.
In "Call Only", you are targeting only mobile users, but when they click on your ad, they are automatically calling you. This means no intermission are your website, no slowing down to think about why not to contact you…instead, they are calling you now!
To get there, you first need to select the "+ Campaign" button. In the drop-down, select Search Network.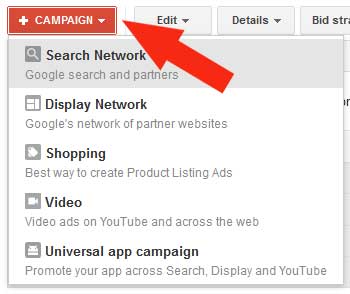 In the next page, you will see a few choices with radio buttons. Thing includes are mobile apps, the search network, and of course, Call-only.

You should also do a few more things to truly target your campaign, to the region and to the people that will be looking for your brand.
Under Locations, search and select your city, state or region
Make sure to click Location options (advanced) to select only those people living there
Under Advanced settings, make sure to use schedule to target calls only when you can pick up the phone
The final step to focus on is your call ad itself. As you will see, you have to match the dialed number with a phone number on your website. Each line of the ad will be a maximum of 35 characters long. Towards the bottom of the page, you will also see a preview of the ad.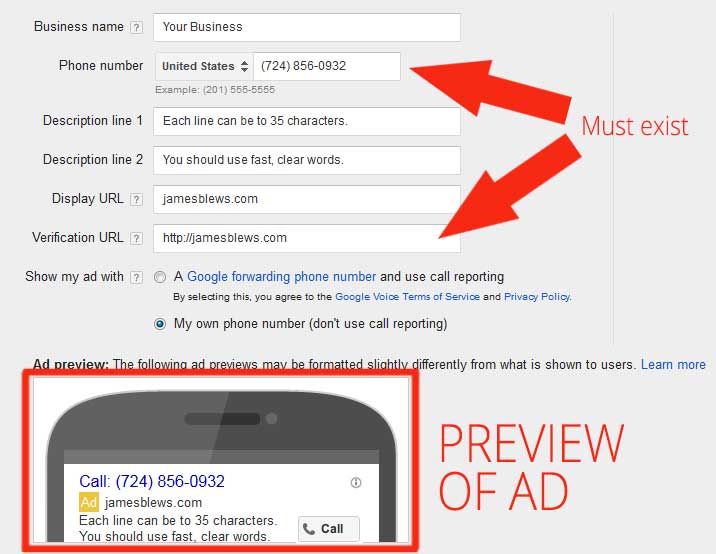 Now your ad will be presented to people in your targeted locations, during the hours you set and will be calling you directly from their searches.
This is a powerful lead generation and revenue generation tool.
Key points to walk away with
2016 can be a really productive year for your brand. Gaining 300% or more traffic, as well as increased leads, boils down to only three simple steps.
First, get authoritative with Google and Bing to increase your organic search traffic. The simple steps to create your account, link it and then use some of the tools will take a single afternoon. Plus, your website AND new content will be indexed super-fast.
The next item to focus in on is content creation with marketing. By increasing the amount of good quality content that you create, your users will find more and more value. By increasing your marketing of that content, your traffic will grow exponentially over time. You can create great content daily if you choose…but don't neglect the content marketing!
Finally, and the most expensive step, is to use paid advertising to increase your leads. The cost may be more, however, your results will be quicker and you can find more clients. This is a scalable approach that your brand can use all year long for a variety of offers, products, content and more.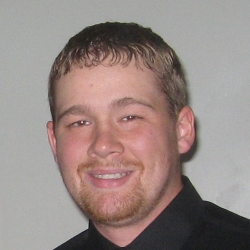 Latest posts by James Blews
(see all)
Summary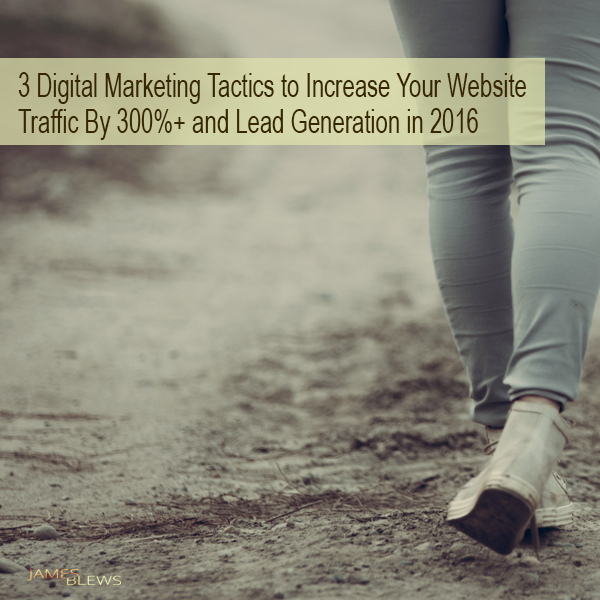 Article Name
3 Digital Marketing Tactics to Increase Your Website Traffic By 300%+ and Lead Generation in 2016
Description
Increasing your website traffic and lead generation in 2016 might not be easy. With these 3 digital marketing methods, you can!
Author
Publisher
Publisher Logo