Not everything should take hours and days to learn.
For me, I would rather watch a 20 minute video to learn something new than to read a book for a few days to get the same understanding of the material. Same?
If so, then I think you can appreciate this article. Literally, you will only spend about 5 minutes learning how to write faster for your business website.
No more fluff – let's dive in!
Not everyone is a writer, but here is how to give your website what it needs
Writing is an action. Good writing is a skill. Great writing is money.
Your business website needs good writing – it's worth it.
"But, Jim… I'm not a writer!"
I've heard this before. But, there was a simple method I have developed that turns every non-writer into a creator of content extraordinaire! And, it works every single time I teach it.
Before we get into that, I want to tackle why it is so important to write for your website. Content is amazing, and it is useful, and it can boost your profits by a ton.
The dirty secret of writing
I remember a long time ago watching magicians on TV. None were as big as David Copperfield.
When I was young, I would sit in amazement watching his television specials. Watching him pass through the Great Wall of China, watching him make a full airplane or submarine appear out of nowhere and watching the Statue of Liberty disappear.
Then, I got older…
Just like Santa Claus and the Easter Bunny, the amazement of David Copperfield faded when you find out how the big tricks are done.
The illusion of "all writing needs to be worthy of Hemingway" is the dirty little secret of SEO copywriting. Your business website doesn't have to have perfect content, it just needs to always have content.
Here's the punchline…
Google, when it has nothing new to eat, simply will bypass your business website as 'stale'. You will lose rankings, you will lose traffic, you will lose new customers.
The other reason for writing is so simple that people forget it all the time
The main reason for writing on your website, adding quality service pages to your website, creating clear pages outlining who you are and what you do, and adding articles to your blog is simple – everyone is human.
Humans read. Humans communicate.
The more information for someone to read, the better.
And so, to give clarity and context, we write.
We make a single 'services' page on a business website, but link into this page and make individual service pages. We make 'about us' pages that should read longer than 20 seconds – people need to know you and your brand's 'why'. We make contact pages that list EVERY method of contact, plus a form to fill out for contact.
Every single page requires some form of writing skill.
And, now, you're going to know how to better serve those pages with better writing.
The flow of fast, good writing for your business website in 5 steps
These are the most simple steps that anyone, writer or not, can use to pump up content on a regular basis. After you use this task list as a primer for a while, you can alter it to fit your writing style, speed and needs.
Step One – Follow the topic, Know the subject
This one is likely the easiest part of this whole process. You must know what you are about to write about, right?
If you a furnace repairer, an HVAC or a plumber, can you write about the work that you do? If you are a roofer, gutter replacement company or a contractor, can you talk about that? Landscaper? Dog walker? Attorney?
Know the topic and subject and you will be able to write extremely fast.
For the current example, we're going to give a little roof repair marketing help, and talk about roof repair. Our subject will be "Why D.I.Y. Roof Repair Might Not End In A Good Weekend".
Step Two – First outlines require at least three talking points
Now, you have your subject or topic, and you know the material that you are about to write about – hey, you're an expert in this region for this industry, right?!?
For the particular subject, what are at least 3 talking points that you would need to speak of to make the information understand. If you want a tactic for really getting to the meat of it, what three phrases could you say to support the topic AND get the information of the article across?
For this example, I think the following works…
The tools are specific, and buying them isn't worth a one-time cost
Roof repair can be dangerous; or, the ladder is about to FALLLLLL
The total cost in fees, permits, tools and time might be better served by calling in a pro
Looks good? Good!
Step Three – Break down those talking points into 2 to 5 supporting points
Now that we have the 3 or more main talking points, we need to break each down further to support that parent talking point. You can use fact, history (what you've done for clients) or myth-busting (what customers have stated they've believed but hasn't been true).
The tools are specific, and buying them isn't worth a one-time cost
Roof repair tools break-downs (what they are for)
If I were starting today, what would it cost?
Roof repair can be dangerous; or, the ladder is about to FALLLLLL
Replacing a lightbulb with an 8-foot ladder isn't the same as a roof with a 30-foot ladder
Home-owner's insurance in your state might not cover an accident
Tethers, ropes, harnesses and more
Why we use scaffolding for many situations around this region
The total cost in fees, permits, tools and time might be better served by calling in a pro
Fees and permits that you might not have known about
You're time is money – how long does a roof repair usually take a pro versus a DIYer
Unspoken costs of not using a state-licensed roof repair specialist (i.e., hiring your cousin Dan)
Step Four – Write a few paragraphs on each and every talking point
For each of these main talking points that we first have done, and now the smaller talking points, write one or more paragraphs per item. These should support the smaller talking points under them, and then support the main parent talking point above it.
Step Five – Write an introduction into the article, and a call-to-action for your outro
Every article should have some type of introduction into the article and an outro. For the introduction, I use like using a combination of storytelling and previewing of the information about to come. For the outro, ALWAYS use some form of a call-to-action – the better the information, the longer the reader will be with you, and the more inclined that reader will be to act.
For this example, I would talk about repairing a roof for the first time, and not fully understanding all of the little things that you never knew. Talk about the history of you, yourself, teaching someone some roofing technique that they didn't know. And, maybe even giving a tip or secret trick you discovered or learned.
For the outro, this is simple – tell the reader to call you for a "Free estimate on a new roof". This is the lead generation part. The whole article proved that you are an expert in roof repair, roof installation and roofing in general. The article supported their need for a new roof or roof installation (I mean, they are reading an article someone would read when they need either service, right?).
That is all you have to do to write articles for your service business website. You do not have to write grand novels. You just have to provide information and expertise, and then give a call-to-action that results in them calling you or emailing you.
How to write 30 articles a weekend for your business
If you can write one small article, maybe 500, 600 or 700 words in 5 minutes, then how many could you write over ten hours? See where I'm going with this?
Using the technique I showed you above, we're now going to look at pumping out content. We're going to create a page a day, but only use two days out of the whole weekend to do it.
Take 5 services that you want to sell
What are specific subjects that you would like to sell? What can you write about a lot?
For roofers, this might be:
Roof installation
Roof repair
Gutter repair
Chimney repair
Custom roof design
These aren't just talking about roof repair or new roofs, these subjects are sales subjects.
Figure out 6 parts of those services, at least
We can now start breaking these initial subjects down into smaller subjects with specific topic relevance.
For instance, when we talk about chimney repair, we can actually talk about the following:
Repairing worn and old chimney bricks
Repointing a red brick chimney in 2021
Why birds and squirrels love to destroy your chimney
New chimney costs and affordable alternatives
Why does my chimney look like it's getting thinner?
Why D.I.Y. chimney repair might cost you more than you know!
All of these subjects involve roof repair by fixing or installing chimneys. Some of the topics look at hiring a quality expert. Others look at information about your chimney's life and it's lost structure.
Write outlines for each topic + part combination (30 outlines)
Now, you need to do the outlining that we did in the previous section. Each of these should take 5 to 10 minutes. I like to say 5 minutes, because, when you get used to doing it this way, you can go that fast.
Write final article for each of the 30 topics
Now, write the final article.
Add images and links as necessary. Clean up any misspelling or grammatic mistakes.
You shold also make sure that the article looks good to read. If someone has a hard time seeing and reading the words in your article, they will leave in five seconds.
Maybe hire a writer that knows his or her sh*t
Look, not everyone is a writer. Some people, no matter how easy creating content, writing articles or doing SEO copywriting for their business website can be, they don't want to do it.
If that's the case, you can contact myself to help you. We can discuss your website, SEO copywriting, ad copy and social media content. You'll get a "No B.S." breakdown of what you need and how to get there. Just send me an email at email@jamesblews.com, or give me a call at (724)510-7201 today.
Summary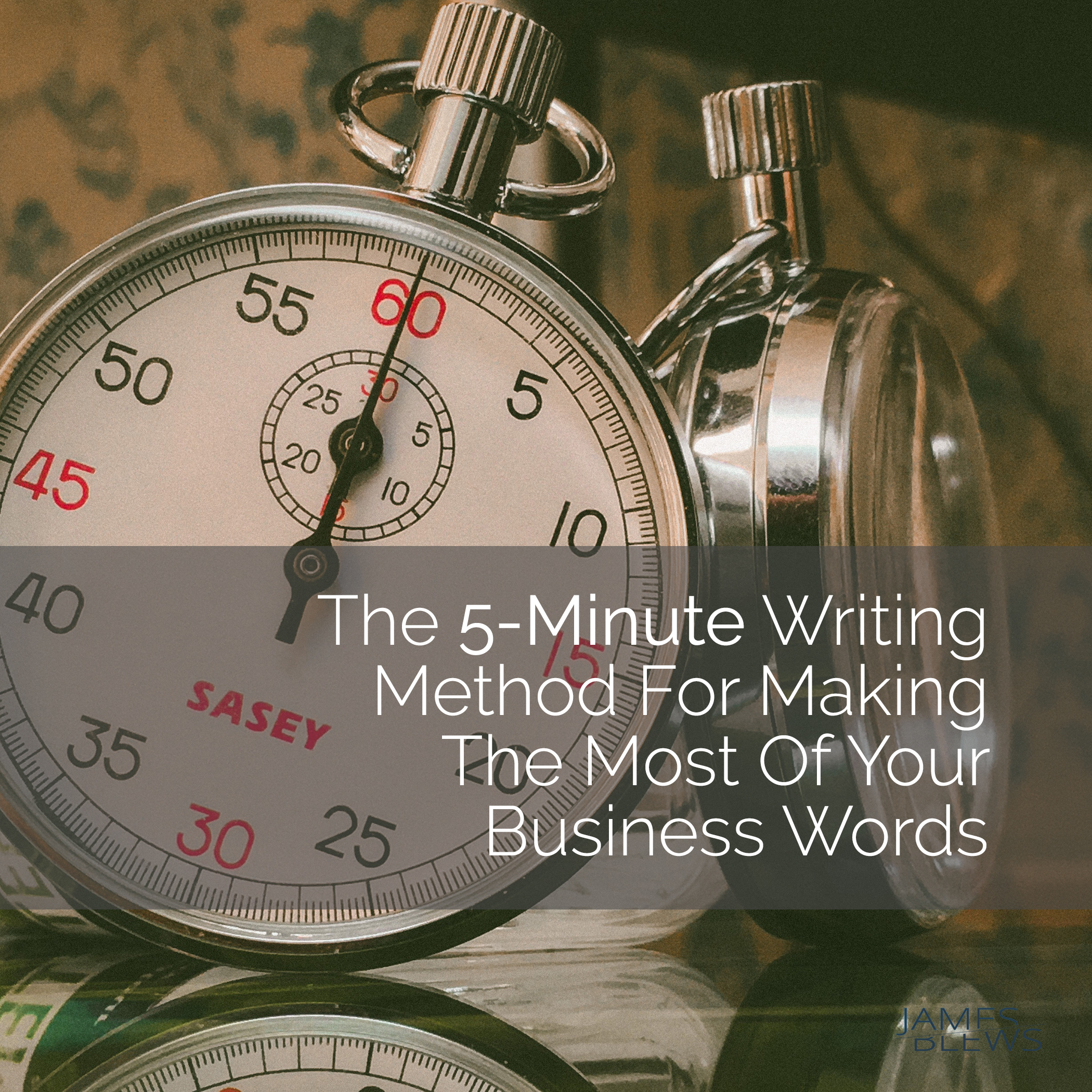 Article Name
The 5-minute Writing Method For Making The Most Of Your Business Words
Description
Writing doesn't have to be only for 'writers'. In this article, you will learn how to write content for your business website in only 5 minutes.
Author
Publisher
Publisher Logo