Video marketing is a growing method for most businesses. While most marketing should be in the hands of a professional, there are some things that you as a business owner can do. Small business and microbusiness can be seen more and get more love from YouTube and Google.
Google is the #1 search engine in the world. However, YouTube is the second largest search engine! Not only this, but YouTube is also the number one social media platform in the world currently.
Question…
If a tree falls in the woods, does it make a sound?
No, this isn't a philosophy class, but there is a point to be made here. If your content is absolutely incredible, but no one is reading it, then what is the worth?
Good content should be seen
If you content is humming with goodness, we need to get it into the hands of people. Whether this means a video about a how-to, product review, client testimonial, before and after or other video types, it needs to be seen.
Are your videos optimized? Meaning, are you doing at least the basics to get that content of your brand into peoples's hands?
There tips and optimizations will never replace good, quality content. If your first 3 seconds are not eye-catching, if the audio is dry, and if each part of the video does not DEMAND that the viewer stay until the next, then the amount of video optimizations do not matter.
Start with the video itself
From the video name, down to the first and last shots should all be thought out. Afterwards, though, you should be using what YouTube effectively has created as in-video linking.
URL links
Subscribe to Channel link
Links to other videos
The above link types will create more views for your channel, more viewers for your videos and will also give more ability for more time on videos spent.
Eye-catching thumbnails mean more views
A little tip – thumbnails in your YouTube video can make or break someone clicking it.
The thumbnail is like a window-shopping element to possible viewers browsing your videos. Think about when you have been on YouTube and used the navigation on the right side of the screen…do you click by title only, or by the image you are seeing?
The thumbnail is not the ONLY thing that makes the click, but the visual is interpreted far quicker than the text-based title.
Titles can make or break your search visibility
Look, the real truth, the scary, stupid and funny truth about YouTube and videos is that a title isn't JUST for your viewers.
Here is what is really happening:
YouTube and Google uses your video title above nearly everything else for ranking.
This is not the only factor. However, a poorly matching title to your description, tags and annotations means that your video will NEVER rank. If you have high views, but bad meta data (a bad title), then good luck.
Conversely, a GREAT title, no matter the content length nor quality, will outrank other videos over time. Plus, a user seeing a catchy title that is matching their need will become an instant fan.
Descriptions are the glue holding everything together
Your descriptions in YouTube can help make a bigger impact on your visibility than most people think. In fact, with descriptions, you could actually create an incredible mix of video content, written content and some link building.
And don't go light in the video's description. Don't keyword stuff in here (even though a lot of YouTubers do), but do fill that description with a lot of content.
And fill it up with a lot of links. Link all of your social media platforms, link back to an article that either is for the video or for support for the video. And finally, for businesses, link to your main URL, email and any phone numbers.
What do you do on YouTube?
What are your marketing methods when using YouTube? Do you hire out to a marketing firm? Or, do you make your own videos?
Let me know. I would love to hear how you are using your brand on YouTube!
Summary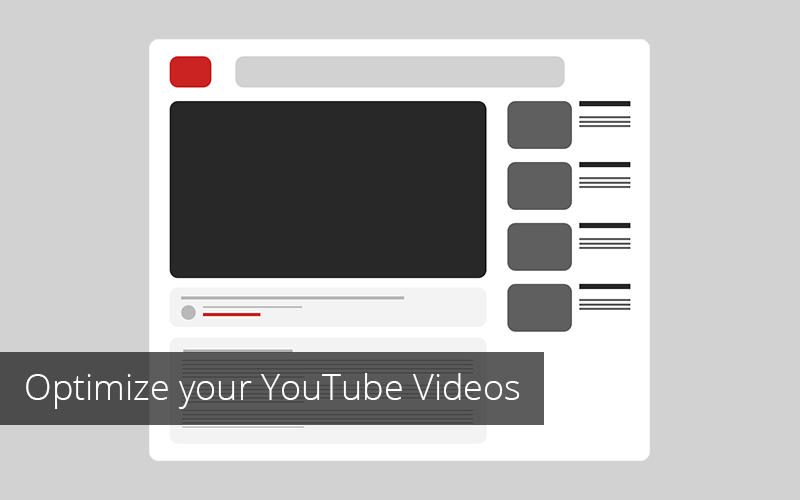 Article Name
Basic video marketing and YouTube optimization [INFOGRAPHIC]
Description
YouTube is a beast when it comes to marketing. How do you optimize on YouTube? Are you using video marketing? In this INFOGRAPHIC you can find more answers.
Author
Publisher
Publisher Logo