If you've ever researched online marketing for your business, you've likely seen a bunch of information about SEO, websites, articles and content. These are all parts of digital marketing for businesses. What binds all of these things together? Content creation and copy – BOOM!
Today, we are going to talk about an element of digital marketing that is involved in many other parts of your overall digital marketing plan. And, we're going to hyper-focus on organic search traffic for traffic and copywriting for your website.
What are we going to really be looking at?!?
Keywords. Keywords. Keywords.
Keywords are important because they allow us to communicate correctly. We use keywords to give specific information back to our users and visitors on our websites. After all, it is those people who are creating the keywords that we use to communicate back with them!
Where do we get keywords from? Who is the most receptive to good keyword research and copy?
One word comes to mind – Google.
I mean, it makes sense, right?
Google is THE source of information in a pinch.
Do you have a question? You ask your phone.
Need to find a plumber? You ask your phone.
Need the best local pizza place? You ask your phone.
Need some to fix your roof? YOU. ASK. YOUR. PHONE.
Google is likely set as the default search engine on your phone, voice assistant on your phone and devices, and the default search engine on your browser(s) – everything.
Google means two things: organic search and paid digital advertising.
At the end of the day, this means using keywords!
We are going to look at keywords. We are going to look at using keywords specifically for building organic search strength. And, by the time we are done, you will have a lot of ammunition in your fight to get more attention (and ranking) in Google for customers' eyes and ears.
Here's the real big takeaway…
We are going to focus on helping your roof repair business with digital marketing. By the end of this article, your grasp of keywords, content generation and SEO will be increased 1000%. No, you won't be a roof repair SEO expert, but you will be able to help your digital marketing for your business.
Sound good? Great!
To start keyword research, you only need a free tool
Ok, to begin, kind of my step zero, is to let you know that the tool I am going to talk about is free, everyone can use it and it will allow you to get keywords directly from Google.
Well, what is it?
The tool is called the Google AdWords Keyword Planning Tool.
Now, before you point this out, the tool is housed in Google's digital advertising platform. You DO NOT have to have a campaign running to use this.
As long as you have a Google account, you can access the tool.
Step One: Go to the Google AdWords Keyword Planning Tool
One thing that you will notice is that you have a few options for looking up keywords, values, etc. Some of these are meant to be used exclusively for advertisers on Google ad platform.
Step Two: Enter your main brand keyword
Your main brand keyword is what your business does. Are you a landscaper? Then use that. Are you a contractor? Then use that.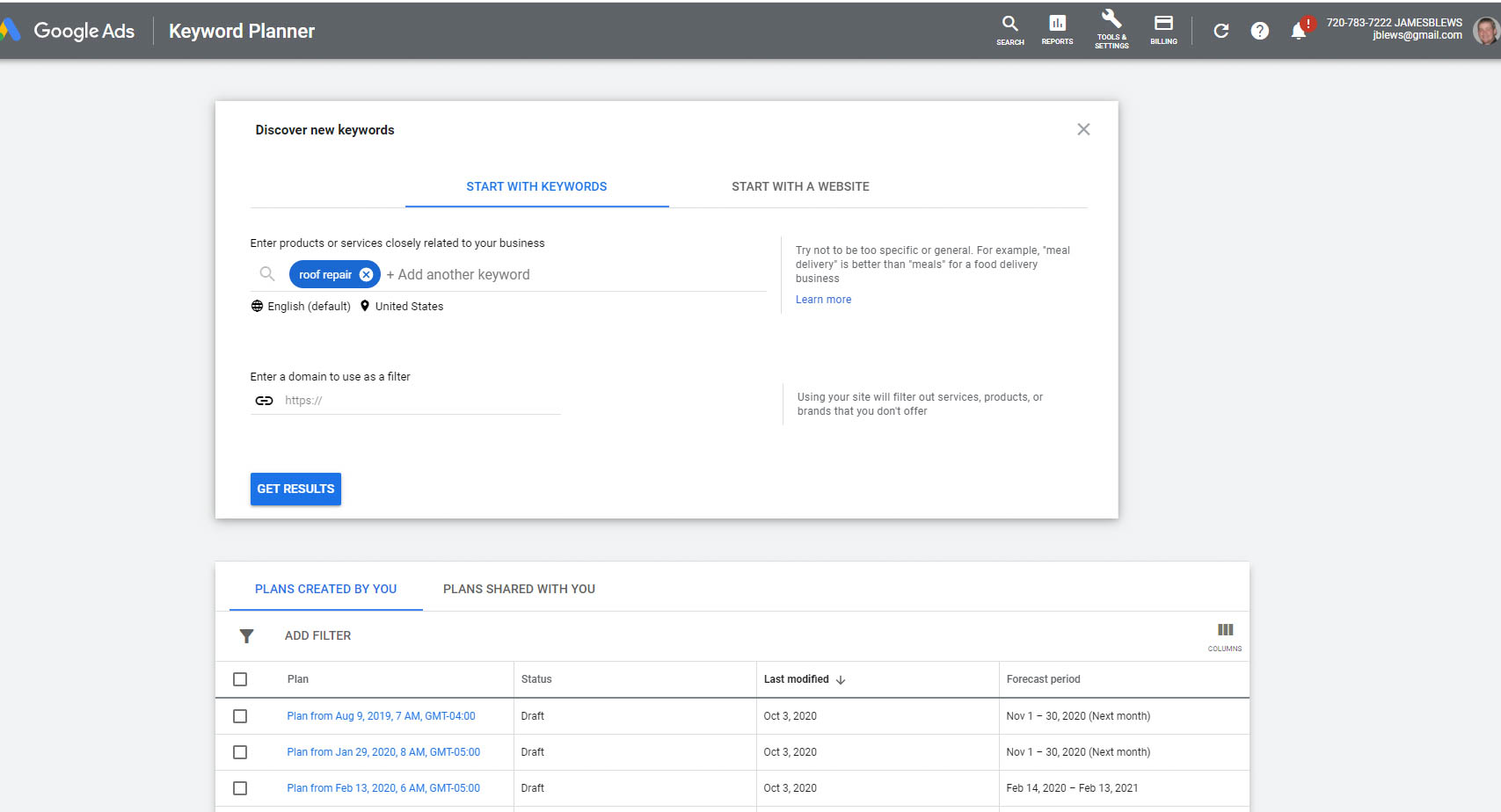 We are going to use roof repair.
Keep the initial keyword lookup simple. You'll see why in a few minutes.
Step Three: Regional selection tool pops up
So, now you want to click on the regional filter. You can limit the area to people living in a city, county, state, a region (like a Nielsen Rating area), a country or more.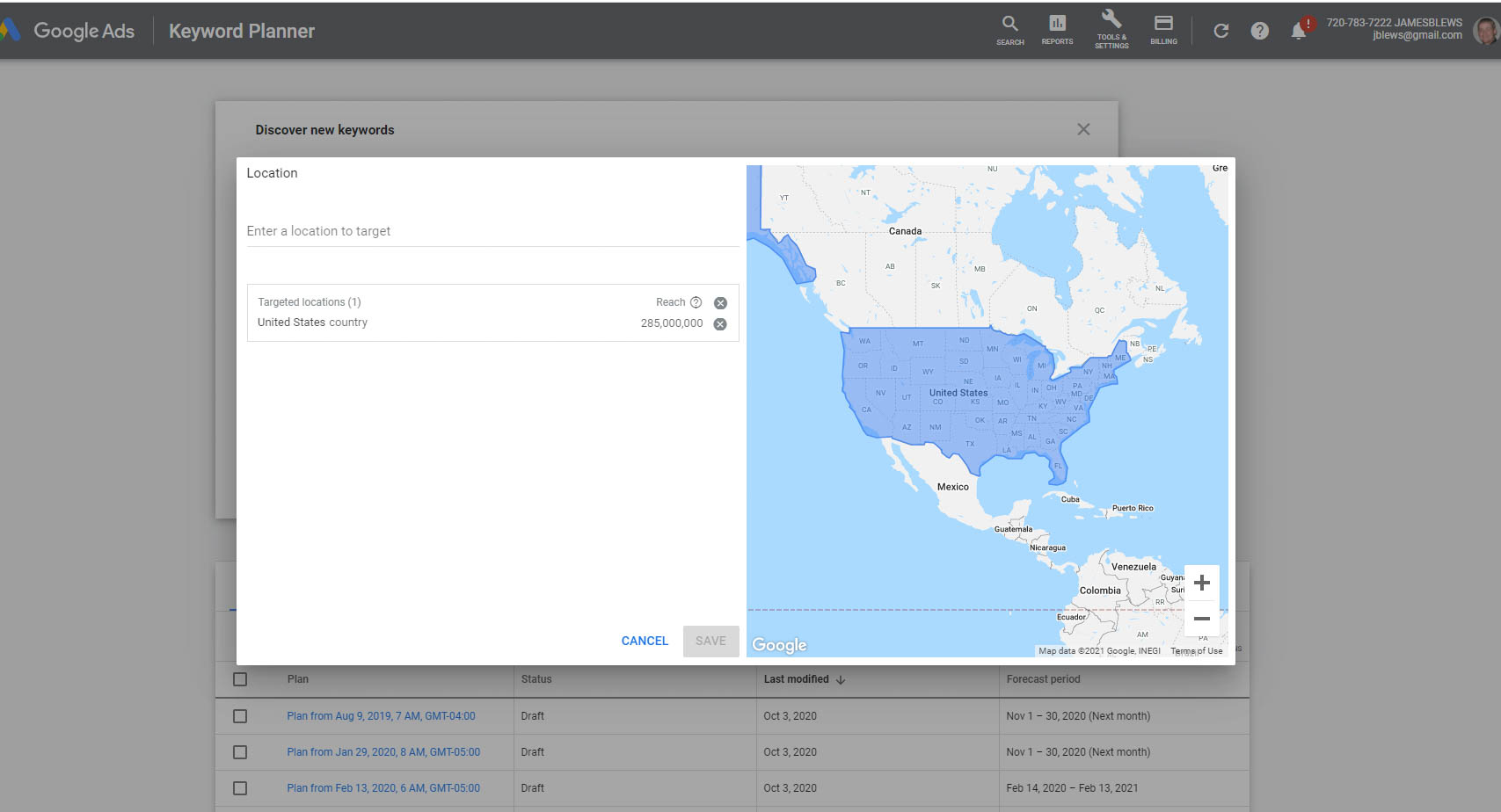 Step Four: Enter your region
For this example, I'm using Butler County PA.
You start typing in your region and you'll be presented with possible choices.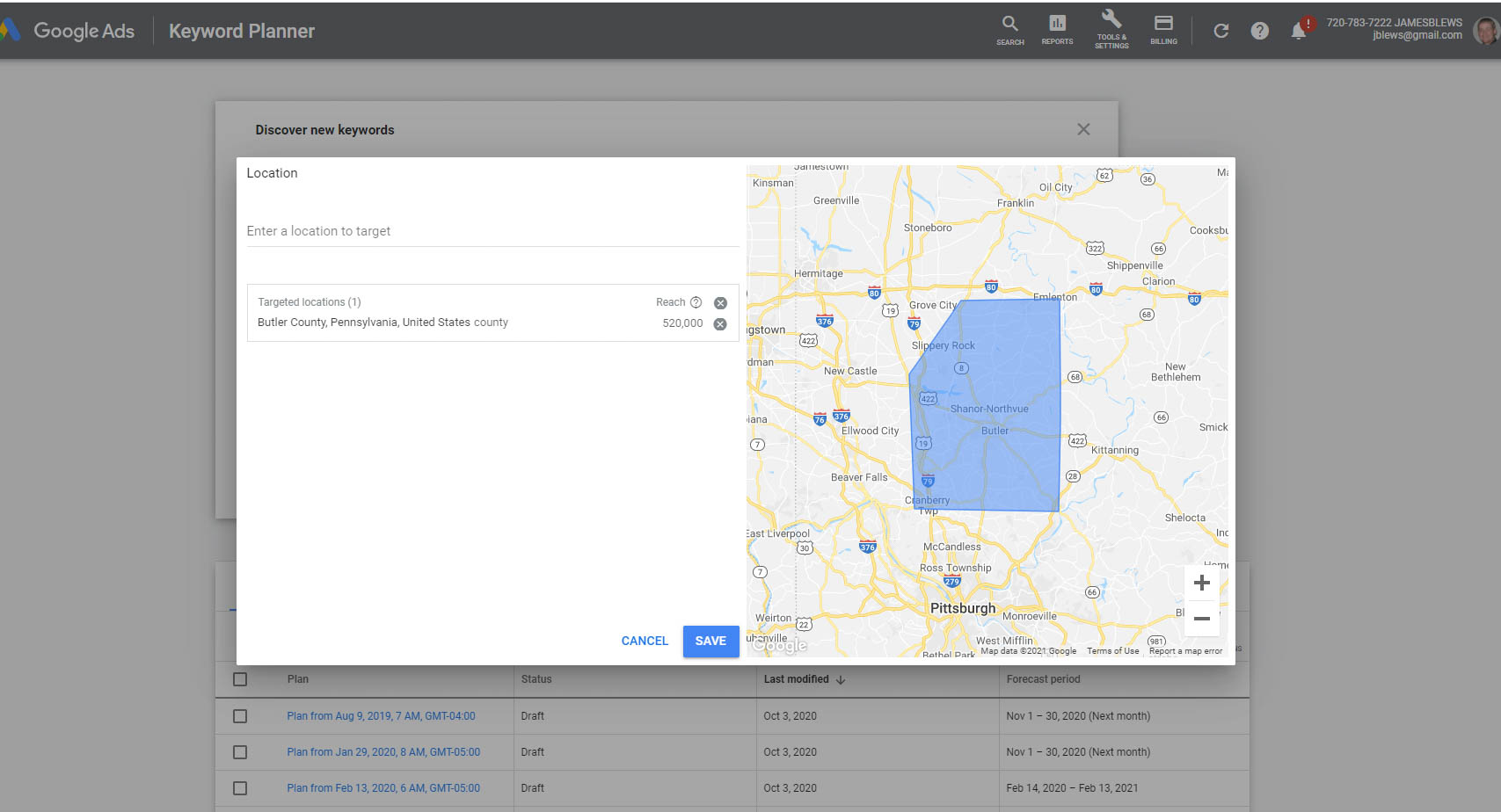 If you make a mistake, click the small 'X' on the choice you want to remove.
Step Five: Click 'Get Results' button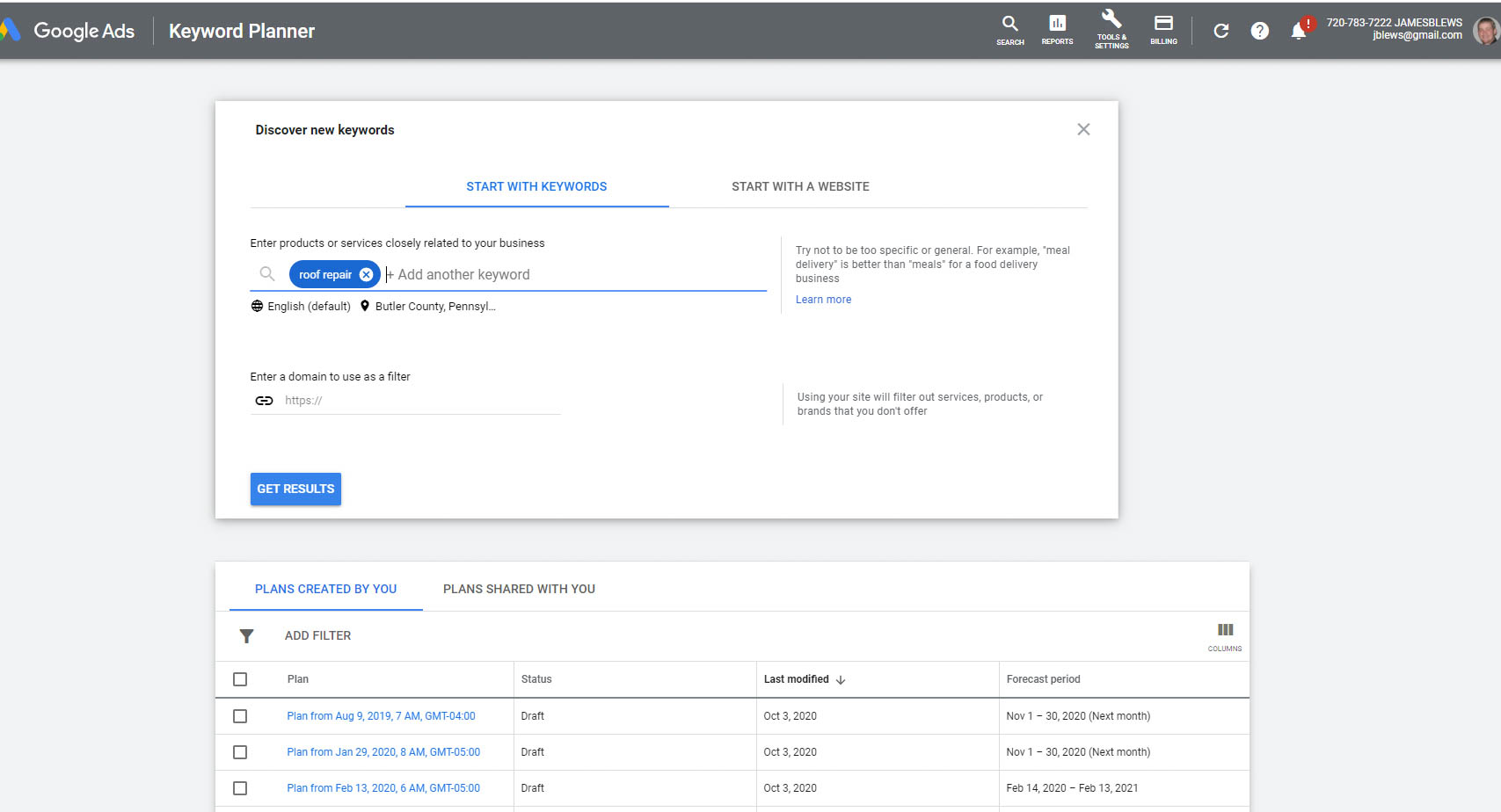 When you have your keyword, and your region, you can get your results.
Click the blue "Get Results" button at the button of the box.
Step Six: Presented with a list of results (keywords)
The box will close, and Google will present a list of keywords.
What are these keywords? Where did they come from?
Well, here is where the gold happens…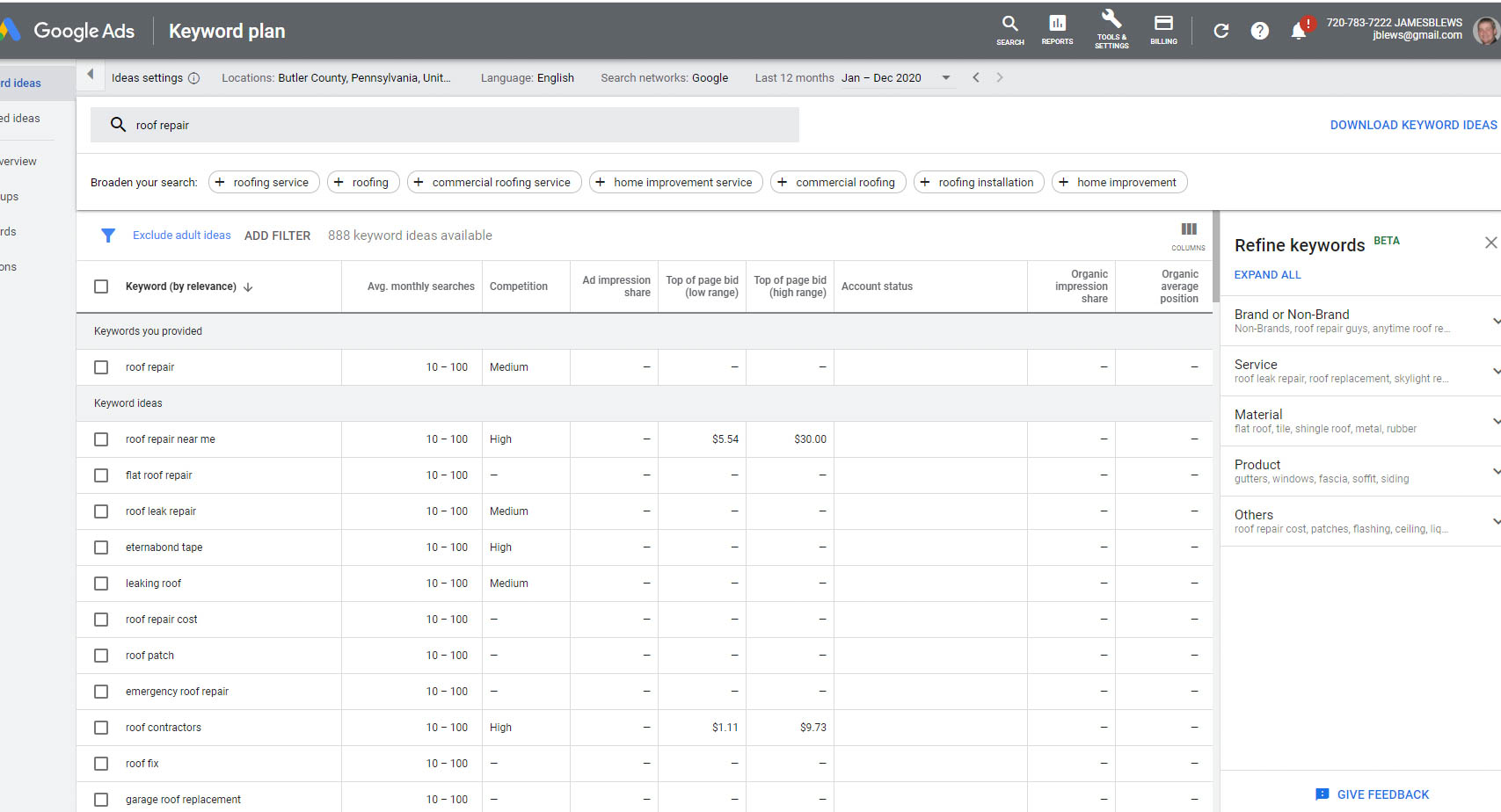 These are what people (your customers) in the region you searched in are using Google to find. You are literally seeing EXACTLY what people are using Google to find.
How cool is that? And, powerful, too!
Now we can start looking through these lists, finding keyword ideas, finding families of keywords, and more.
Which brings up another good set of questions…
Which keywords to choose? Where to use them? What content to create from them?
All of the keywords you see using the tool are related to your search. And, people are actively looking for these terms.
But which keywords should you choose?
I would start by thinking about what your existing customers have asked of you.
For a roof repair business in Butler, I would assume you would need a structure of pages like the following on your website (as a main navigation group):
Home
Butler Roof Repair Services

Home roof replacement
Slate roof repair in Butler
Butler flat roof repair
Chimney flashing repair
Garage roof replacement
Metal roof repair

About [BRAND NAME]
Contact Us
Emergency Roof Repair in Butler
Other pages that you might want to consider making would focus on the following:
Roof repair cost (likely cost comparison, or even a cost-generating tool or calculator)
Emergency roof repair (for people needing service 'now')
Roof contractors (more of a 'Meet Our Local Butler Staff Here' kind of page)
As you can see, our keyword research yielded a lot of topics for which your regional customers will be looking. Now, we can start to group keywords together to make more search-relevant pages.
What keywords are used for 'roof repair cost' by people in Butler? What about 'emergency roof repair' by people in Butler Pennsylvania? Which keywords would you need to serve people in Butler looking for 'roof contractors'?
Not only can you use keywords from your previous search, but now you can find more keywords relevant to these – and then deeper and deeper into your content and website. If you're wondering why some websites are pages and pages, then tens and tens of pages, and then hundreds and then thousands, now you know!
You can then link from those pages into more specific (or "longtail") keywords.
And now, what keywords should we use all over the site to reinforce our SEO?
I'm glad you asked!
When we looked at our searches for people living in Butler Pennsylvania, with the topic of "roof repair", we found about 1000 keywords we could possibly use or draw from.
That is a lot of keywords to use.
Instead, we can narrow them down some…
What do your customers ask about?
What do your customers talk to you about?
What types of questions do your customers bring up during work, estimates or consultations?
Those are the topics that you want to talk about, the keywords that you want to use.
Here are a few to use everywhere on the website…
Fix my roof
XXXXXX "near me"
Leaking roof
Roof replacement
* Note: #2 above means KEYWORD + 'near me', like 'roof repair near me'
Business website blogging, for fun and money (and SEO)
Finally, you need some keywords for your blog.
What to use?
These 3 stuck out to me!
Wind damage to roof
Fix roof leak
Roof and gutter repair
Now, not everyone is a writer. I get that.
But, I can turn you into a writing machine… at least enough to write basic articles or webpages.
What follows is going to be a basic run-down of what you need to write fast. If you'd like to learn a more in-depth strategy for creating content and writing fast and better, you can read my article "THE 5-MINUTE WRITING METHOD FOR MAKING THE MOST OF YOUR BUSINESS WORDS".
Ok, writing…
First, we look at the topic. The topic is important as we write from it, and create our headline(s) from it.
Next, we create an outline and create 3 to 5 sub-topics or talking points to support our topic. For a topic like "wind damage to roof", we might have the following subtopics:
Install the right materials to avoid wind damage to your roof
Maintaining your roof against wind damage and rain and snow
Affordable ways to repair a wind-damaged roof
What to avoid when upgrading or replacing your old roof
From here, take each talking point and write about them. 200 to 500 words is a minimum – simple. How long would it take you to fill in this information? Probably not that long for each area, right?
Next, you write an intro and a wrap-up. The introduction can be some simple story-telling, or it could even be an overview of the topic. The wrap-up simply summarizes the article and gives a 'next action' for the reader to take.
Usually, the intro and the wrap-up can be a single paragraph or a few hundred words.
Finally, you need a headline. Good headlines are difficult. Great headlines take a lot of time and skill. And golden headlines are nearly impossible to make happen.
Building a good headline is beyond this article – quite frankly, the topic has been made into books for years. However, I have a look at headlines, headline creation and how you can become a pro at making headlines in the article "HOW TO WRITE GOOD, BETTER, BEST HEADLINES FOR YOUR BUSINESS WEBSITE IN 4 SIMPLE STEPS".
Now you know about keywords, copy and SEO, but…
Today we looked at keywords, and how they affect your business website. Specifically, we covered using a free tool to get answers from your possible customers without ever asking. You now know who is trying to find what in your industry – along with related keywords and topics. We then looked at how to use that information on your business website. Website pages and articles can use this information to answer more customer questions and rank higher in search engines like Google.
Finally, we covered writing. You should now be able to create and deploy web pages and articles and blog posts within just a few minutes – without a journalism degree!
Overwhelmed by all of this, and need more help?
You can contact me at (724)510-7201 or email@jamesblews.com for a free business consultation. I can answer all of your questions, get you moving in the right direction when it comes to keywords, developing leads and helping your Butler roof repair business (or any region) get more customers!
Summary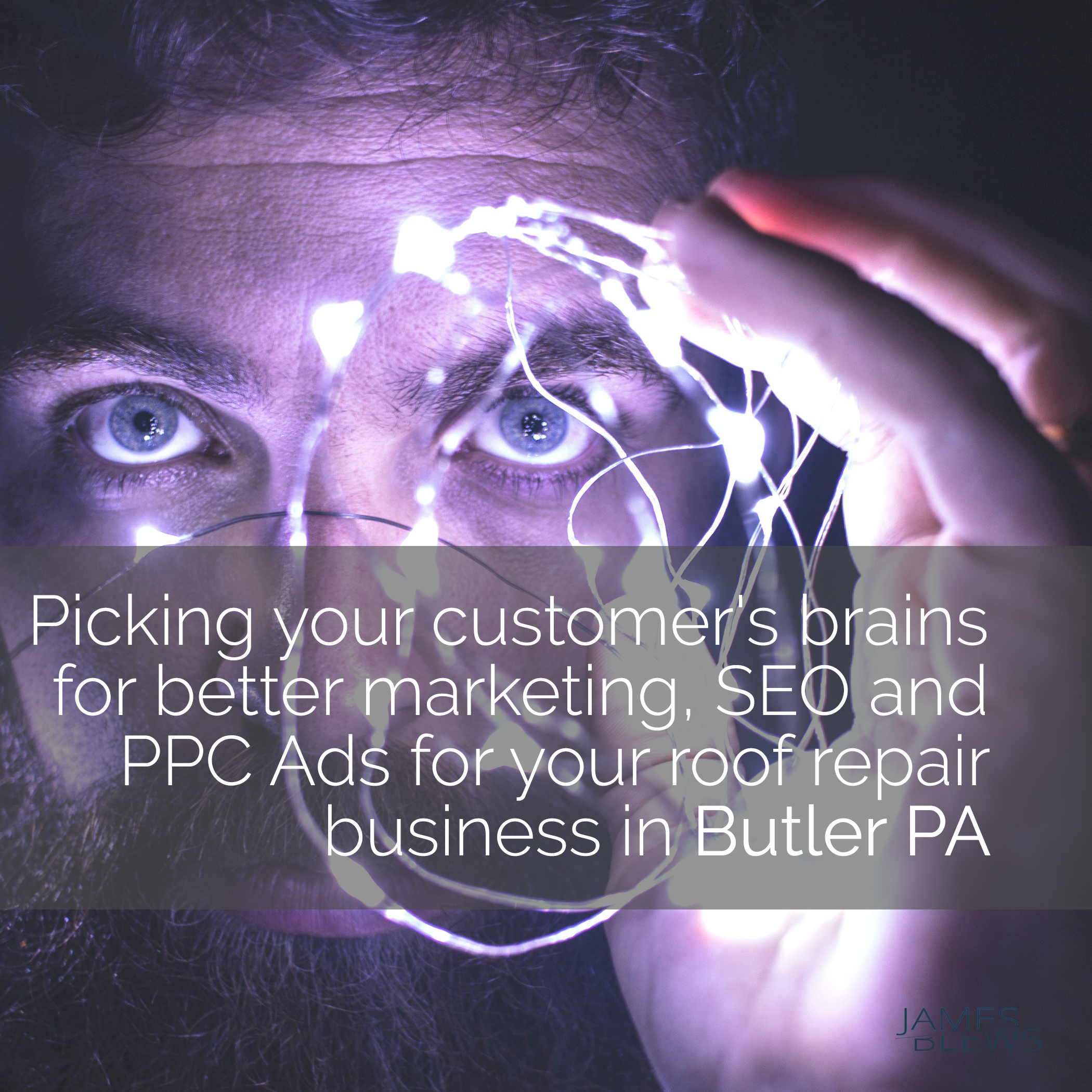 Article Name
Picking your customer's brains for your roof repair business in Butler PA
Description
Roof repair marketing and roofing marketing can be difficult to navigate. In this article, we looked at how to find out what your customers are looking for, and how to use that information to reach them!
Author
Publisher
Publisher Logo